The best way to inject freshness back into your bathroom is by redoing the walls. Tile wasn't made just for the floor!
Consider these: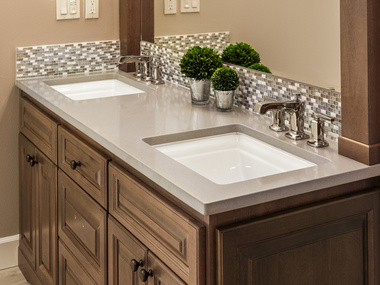 Accent tile above the vanity adds a bit of glam at a low price.
White subway tile is a classic look that can be paired with any other patterns or colors. Choose a dark-color grout to avoid visible mold stains.
Three-dimensional tile can echo another time period and is a unique decoration.
Create a tile rug using a different pattern of tile in the middle of your floor. You don't have to do a whole renovation for this — simply remove some old tiles and pop in the new ones.
Tiles add texture and personality to a bathroom, so don't be afraid to play it unconventional.
You know you want a new shower and bath and there are some gorgeous ways out there to bring the spa into your en suite.
Frame-less glass showers are getting big right now, and for good reason: They look sleek, clean easily and help aging family members have easy access. Having an ADA-compliant house may also increase your resale value.
Freestanding tubs may add to your water bill, but they're great for a bubble bath.
Shower benches bring relaxation into the shower — add steam, multiple shower heads or a rain shower for extra luxury. (If you add a steam feature, be sure to add a vapor barrier to the ceiling and walls to prevent moisture from rotting the wood.)
An absolute necessity is some good storage in your bathroom. Towels, hairdryers and more must have their place.
Vertical cabinetry is stylish — go up whenever you can.
Floating vanities are all the rage right now, as the open space between the vanity and the floor adds an airy quality to the room. Add cabinets to turn art into extra storage.
Antique or interesting furniture can also provide storage with a unique twist.
Mix up open and closed storage to prevent the monotony of a cabinet wall.
As much as possible, remove cabinetry to make room for other, more rewarding bathroom features.
Amenities are the most fun part of renovating, when you get to add all those exciting features.
Radiant-heat flooring under stone floors can bring warmth to a cold winter day.
Seating in the bathroom can give you a place to relax in the morning; consider an ottoman or a window bench.
A fireplace can be classy and soothing.
Bring in some radio or music with a Bluetooth speaker or shower head; if you really want some entertainment, go for a TV.
Heated towel bars ensure your towel is warm when you get out of the shower.
Windows and skylights fill the bathroom with natural light.
Budget carefully and you could have your own five-star spa without breaking the bank. A bathroom reno can let you live in luxury every day.