Whether you're preparing your home to list on the market or want to make wise investment decisions when upgrading, these are the areas of your home where it is worth splurging, and the places where it's better to save.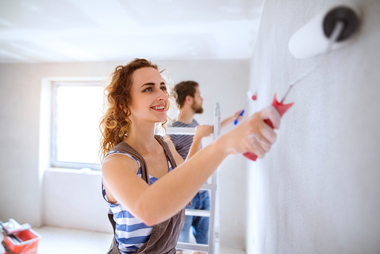 Splurge On:
Bathroom Updates
Fixing up your home's bathrooms has positive ROI when it comes time to sell. Minor updates, such as new cabinets, fresh paint and a new backsplash are areas where your money will go a long way. Buyers don't like the prospect of having to completely rip out a bathroom the moment they move into a home, so a little extra effort to make this room feel up-to-date will entice buyers.
Kitchen Updates
Give your kitchen some TLC before you list it. Similar to the bathroom, the best places to spend your money are on cabinets, hardware, paint, backsplashes, and the floors if they're really old. To many people, the kitchen is the heart of the home, so making sure this room looks clean and bright will be hugely beneficial if you plan to sell.
HVAC/Roof/Insulation 
Home maintenance is always worth your investment. Improvements to interior design are only worth it if your home is in good working order. Whether you're putting your home on the market or plan to stay in it for years to come, investing time and money into its plumbing system, electrical system, HVAC and more will always go a long way.
Save On:
Kitchen Technology
Not all kitchen improvements are worth your money. If you you're dazzled by some of the latest advancements in kitchen technology, wait before jumping on the bandwagon. Some of them might end up just being fads, while only a select few will eventually make it as kitchen staples. Plus, you won't see buyers shelling out extra money for fancy kitchen technology.
Additions
You might think, the more space the better! But that's not always the case when it comes time to sell your home. Additions are very expensive and they offer a very small ROI, so make sure that if you sink your money into an addition, it's because more space will be beneficial to you and your family.
Finished Basements
Finished basements fall into a similar category with additions:, It's not easy to recoup the money you sink into improving them. While lots of home buyers like the idea of a finished basement, it's not a feature that will cause them to bid higher on your home.
Keep these tips in mind the next time you make upgrades to your home. If you're looking for more tips on what home improvements offer good resale value, give us a call today.
Need to sell your house. Check us out Sell My RI House